Is it time for you to add to your collection of skinning knives, or are you maybe on the hunt for that first one that will help you survive your next hunting trip? You are in luck because there is a large selection of skinning knives on the market to choose from. As with any tool you use in the wilderness, you must choose your skinning knife based on a variety of features.
Indeed, skinning knives are an essential part of your hunting experience. They're important outdoor tools that help you easily and quickly separate the skin from the meat with very little damage to the animal's core muscles. Thus, a great skinning knife must have a high quality blade, a sturdy handle and a comfortable design that can accommodate your budget. With these attributes in mind, you might not find the perfect skinning knife for your standards, but you can get close with the three choices recommended in this article.
High-Quality Blade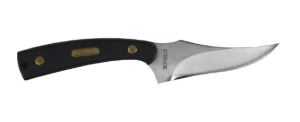 A good skinning knife must come with a high quality blade. In particular, the blade should be thin with sharp edges that can easily bend to work along curves making the skinning process smoother. Indeed, the curved sharp blade should be able to cut through the tissue between the skin and the meat without piercing the hide or puncturing the meat.
In addition, the sharp edge on a high quality skinning knife must be last long reducing the need to sharpen regularly. You should look for knives with blades that are made from superior grade steel material that help with its durability and resistance.
As outdoor tools, skinning knives are exposed to a wide range of conditions that put a lot stress and pressure on the blade and make them susceptible to corrosion and other damages. The blade should be able to overcome the test of time and be easily sharpened when necessary.
The blade should also be shaped like a hook as it will allow you to access small areas and work faster when skinning an animal. A wide variety of skinning knives with high quality blades exist on the market at different price levels. So, the quality of the blade should play a major role in selecting a great skinning knife that will help make your hunting experience as enjoyable as possible.
Well-made Handle
Another important feature in choosing the best skinning knife is the handle. Some tend to focus on its aesthetic part without giving a second look to the quality of the material used as well as its ruggedness. You should pay close attention to the grip and how easy it is to maneuver. Indeed, it should be easy to grasp and allow you to handle it for long periods of time. The handle should be sturdy, resistant and durable.
Additionally, the best skinning knives are made from Titanium, which is very reliable and makes the handle easy and comfortable to grip. You should also look for knives made from fiberglass materials as they retain very little moisture making it easier and comfortable to use during the skinning process when hands tend to be sweaty and unsteady. Outdoor conditions can often be brutal and having a skinning knife handle that is made of rubber makes it less slippery and more secure to grip. Therefore, choosing a knife with a well-made handle that snuggles to your hand, is durable and reliable is the way to go.
Excellent Design
The design of a great skinning knife is almost as important as the quality of the blade and handle. You should always opt for a design that is easy and safe to use. It is often recommended to use fixed knives instead of folding knives. This allows you to make sure that your knife doesn't get stuck when you're in the process of skinning an animal.
Also, a well-designed knife should be comfortable to carry around and light-weight. You should be able to transport it in your backpack or attached to your belt without worrying about the likelihood of it slipping out or adding weight to the load you're already carrying. So, even though the design depend a lot on your personal taste, the fact remains, a great knife should be lightweight, easy to maneuver and comfortable.
Best Skinning Knives Recommendations
It is clear that a high quality blade, a well-made handle and a superb design are attributes of a great skinning knife. Here are three specific skinning knives available on the market today that can help in your decision-making process.
This knife is very well made with its 5-inch blade that will allow you to make long and precise strokes when skinning an animal. The stainless steel finish makes for a blade with a long lasting sharp edge right out of the box. It does take a while and numerous uses to wear out, but when it does the blade can be easily sharpened which is a useful feature on a skinning knife.
The curved blade is particularly convenient as it makes it easy for you to skin any animal and reach small places without worrying about punctuating the hide or piercing the meat. It comes with a carrying sheath that lets you safely store the knife when you are not using it.
The large sturdy handle is very well designed. It can easily fit into any hand—left or right—and is comfortable to use even when it is wet. Its ergonomic design allows for a stable grip and lessens hand fatigue after the multiple long strokes required during the skinning process. This knife is very affordable and was design to help make the life of a hunter a little easier.
The Mini Tac is a very well designed knife with its 3.4-inch blade length. The blade is sharp and comes with small serrated edges. Thus, it can be used for any outdoor activity including skinning, slicing, cutting and dicing.
This knife is very light weight with an extremely well designed handle that has a comfortable grip. The distinctively shaped handle comes with a sub hilt where you can hold your first two fingers to help secure the knife in your hands. It is an added feature that makes the knife particularly easy to use as it feels like an extension of the hand. Additionally, the secure sheath allows you to carry the knife everywhere and have it handy when on a hunting trip. This easy to use knife with its affordable price will fit into any hunter's budget.
The Schrade Old Timer Sharpfinger is especially easy to use with a 3.3-inch razor sharp blade. The stainless steel finish can resist the test of time and any outdoor condition. In addition, the fixed blade makes it safe to use without worrying about the knife folding accidentally.
The plastic handle is rugged and stylish, making it versatile and comfortable to grip, even when wet. The knife comes with a firm leather sheath to help keep it secure when it is not in use. You can easily attach the sheath to your belt or your backpack.
In sum, having a skinning knife with a high quality blade, a sturdy handle and an outstanding design is essential for any hunting excursion.