If you're in the market for a great kitchen knife (or knives), there is a good chance that the selection is intimidating. It can be especially difficult to find suitable knives if you don't understand the basics of what makes a good knife, and what features/materials are worth paying extra for.
It is well worth investing the time to research the many different types of knives available. The time spent now will pay off many times over later. This guide is a great way to find out all about the different kinds of popular kitchen knives, and what to look for when buying one. Scroll through and read as you go, or use the quick links below to jump to a specific section of the guide:
Best Chef Knife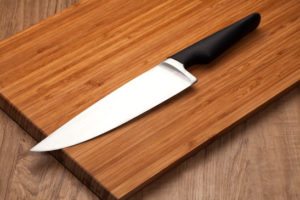 Many experts have compared a chef knife to a dance partner; it might feel very comfortable while you're holding it, but it could feel overly clumsy in the hand of another individual.
If you're shopping for the best chef knife, you want a product that will make mincing, chopping, dicing and slicing pleasurable activities. However, it should also make these activities effortless and precise.
Unfortunately, there isn't a chef knife that is perfect for everyone, so you can only search for the knife that is perfect for you. Finding the right chef knife can take some time. You need to consider the size, balance and weight of the knife.
Some people need a lighter chef knife, which provides greater maneuverability. Others want a knife that is heavier because it makes for easier cutting. The perfect chef knife should have great balance. You'll have to work much harder when using an unbalanced knife.
You must also pay attention to the size of the chef knife. The most popular size is the eight-inch version. It's the preferred size for home cooking. The 10-inch size can be used for greater cutting volume, but the additional size can be harder to handle.
An excellent knife to consider is the Victorinox Swiss Classic 8″ Chef's Knife. It has ergonomic Fibrox handles, which are slip resistant, and it's a popular choice among professional chefs. It's also NSF approved. Another great option is the Victorinox Fibrox 8-Inch Chef's Knife. It's a multi-purpose knife, so it works well for dicing, slicing, mincing and chopping. It has a high-carbon, stainless steel blade and has a slip resistant handle.
You might also enjoy the J.A. HENCKELS INTERNATIONAL Classic 8-inch Chef's Knife, which is also a multipurpose knife. It slightly more expensive than the Victorinox blades. It's made from stain-resistant carbon steel, which is hot drop forged for additional durability. It comes with a lifetime warranty and features a full bolster.
Best Paring Knife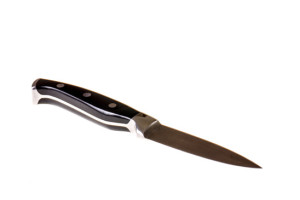 The paring knife is an extremely popular type of knife. In terms of popularity, it's second on the list, just behind the chef knife. It doesn't matter what experience you have or what you like to cook; the paring knife must be a part of your kitchen arsenal.
It's particularly important for peeling and paring fruits. Before making a purchase, it's important to know what to look for in the best paring knife. The word paring actually means to cut off or trim something. An example would be paring the outer edges of a piece of fruit.
It's much smaller than a chef knife, and it usually has a plain edge blade. A lot of chefs use it for mincing fruits, vegetables and parsley. When looking for the best paring knife, it's important that the blade is the perfect length. For the best results, you'll want to go with a four-inch blade.
However, other sizes provide comparable results. It's also important for the blade to be thin because it must be able to trim food items. The material used for the handle is also important because you want a handle that is easy to grip.
Due to how you'll be using the knife, you don't want the handle to be slippery. One of the best paring knives is the Victorinox Swiss Classic 4-Inch Paring Knife. It's the perfect size and comes with a lifetime warranty. The ergonomic Fibrox handles are slip resistant. You really can't beat the low price on this knife.
Another great paring knife is the Wusthof Classic 3-1/2-Inch Paring Knife. Although it's slightly shorter, this knife is perfect for peeling vegetables, but it can be used for virtually any cutting job. It has a small pointed blade, which is made from forged high-carbon steel. It has been hand-honed, so it has the sharpness of a razor. The handle is triple-riveted for performance and strength and made from composition material. A lifetime warranty makes this knife one of the best.
If you're looking for a cheaper alternative, you can buy the Zyliss 3.5-Inch Paring Knife. It's slightly more colorful than the other choices and has a sharp steel blade. The handle has obviously been designed with ergonomics in mind because it's very comfortable. This product even comes with a blade cover.
Best Bread Knife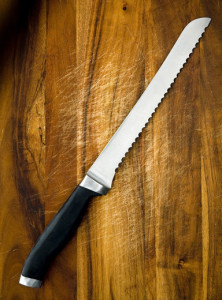 When searching for the top bread knife to buy, there are some considerations to make. However, you don't need a very expensive product because it's not required to withstand serious abuse. At the same time, you don't want to go too cheap and end up with a knife that is nearly useless.
You should check to see if the knife has a scalloped cutting edge. The blade should also be thin and taper gently into the thick portion of the blade. You should probably avoid bread knives that have huge, wildly-spaced teeth.
The massive, thick and jagged teeth don't work very well for that initial slice into the bread. If the blade cannot easily cut into the bread, then it can slip, and you don't want to end up in the hospital with a serious cut. An excellent option is the J.A. HENCKELS INTERNATIONAL Fine Edge Pro 8-inch Bread Knife. It doesn't have those huge, wild serrated edges. It has an eight-inch length, so it lets you cut through most pieces of bread. The stamped blade is made out of German stainless steel. The handle is made of polypropylene and features triple-rivet construction, so you shouldn't have to worry about it slipping.
The high-carbon blade is especially great for cutting through bread. If this doesn't seem like a good fit, you can always choose the OXO Good Grips 8 Inch Bread Knife. It's cheaper and has a serrated blade, which works especially well for crusty breads and large melons. The blade is very sharp and made from stainless steel. The handle provides a comfortable, soft grip, which makes cutting with this bread knife very safe. The eight-inch blade is perfect for most pieces of bread. All this knife needs for maintenance is hand washing with soapy, warm water.
If the other two options don't seem suitable, you can go with the Chicago Cutlery Walnut Tradition 10-Inch Serrated Bread/Slicing Knife. Since it has a 10-inch blade, you can cut through some larger pieces of bread with it. The blade has a serrated edge, which slices cleanly through crust bread and other types of food. The blade is made from high-carbon stainless steel, so it resists stains and rust. The Taper Grind edge stays very sharp, and when the blade dulls, you won't have any trouble sharpening it. The ergonomic, contoured handle is made out of solid walnut and anchored with triple-compression brass rivets. This knife has a classic style and must be washed by hand.
Best Carving Knife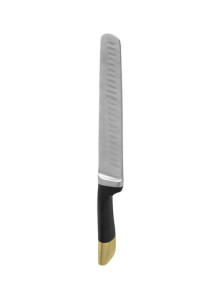 Finding the best carving knife can be tricky because there are many options to choose from. A carving knife is designed to cut through various types of meats. You want a knife that can easily carve through hams and roasts.
The knife will be used to cut many slices of roast or other food items, so it must also have a sturdy handle. When looking for the best carving knife, the most important consideration to make is the average size of your roasts. However, it's also important to consider the size of your hands.
An eight-inch carving knife can make it very difficult to cut through a huge rib roast, but for that same roast, a 14-inch alternative would be overkill. The largest carving knives work well for Holiday turkey and other large meats. A lot of people prefer a carving knife that doesn't have a bolster.
For most consumers, the Victorinox 12-Inch Granton Edge Slicing Knife with Fibrox Handle is the best option. It provides 12 inches of carving power. It has a rounded tip, which is very safe. It also has a straight edge, which maximizes the cutting surface. The high-carbon, stainless-steel blade is ice tempered, which helps to sustain sharpness of the blade. The blade has been stamped from cold-rolled steel, and the edge has no bolster. The handle is designed for optimal balance and comfort, so you don't have to worry about slippage.
If you don't think that knife suits you, there is the J.A. HENCKELS INTERNATIONAL Eversharp Pro 2-pc Carving Knife Set. It's actually just a knife and carving fork. The fork is perfect for holding a roast in place. The blade has a unique serration pattern, which prolongs the sharpness of the blade. It has a full-length tang for increased strength and balance. The handle is made from polypropylene and has rustproof rivets. The eight-inch blade is perfect for most carving situations.
However, if you don't like the first two options, you can buy the Ginsu 2-Piece Bakelite Carving Knife Set Fork & Knife Stainless steel Blade. This set also comes with a five-inch fork. The blade on this carving knife is just over seven inches, and it's made from stainless steel. It will never need sharpening and can be used in either hand. The serrated edges are two-dimensional and symmetrically cut, which provides precise slicing.
Best Kitchen Knife Brands
If you're looking for the best kitchen knife, then it's important to know about the top brands. When it comes to kitchen knives, there are quite a few top brands to choose from. Kershaw Knives is a top brand, and they sell sharp knives at reasonable prices.
Another top brand is MAC Kitchen Knives, and they're known best for lightweight, high quality kitchen knives. Henckels Knives sell some of the best German knives on the market. Chicago Cutlery Knives sell quality products for budget pricing. Forschner Victorinox Knives also sell quality knives for budget prices.
If you want some very high-end products, you can buy knives from Misono Knives. Global Knives have been recommended by top chefs, but they can be expensive. Wusthof Classive Knives have been touted as the best kitchen knives by Consumer Reports.
For the most expensive, highest quality knives, you can check out products from Shun Classic Knives. You should now have enough information to purchase the best kitchen knives for your needs.
Understanding the Parts of the Knife
It's true that all knives are different, but most have some common parts. A typical kitchen knife will have a cutting edge, tip, spine and heel. It might have a bolster, tang, butt, handle and rivets, depending on the specific type. The tip of a knife is always opposite of the handle. It can be quite thin and sharp.
While most knives have a pointed tip, others have a straight, slanted or rounded edge. You might have trouble seeing how the tip of a knife is important. It's actually used to cut small items. For example, it can be used to carve food or cut it into very thin strips.
However, the tip is also used frequently for cutting incisions into food items. The tip of a knife is commonly used to make an incision into the side of a chicken breast or pork chop. All knives have a cutting edge, which is the bottom side of the blade.
It runs from the tip of the blade to the heel. Many knives have straight cut edges, but a lot of knives are made with a serrated cutting edge. The cutting edge can be used to chop, cut or slice food items. The middle portion of the cutting edge is used far more often than the rest of the blade.
Different blade edges are made with different grinds. Each type of grind has a specific purpose. The spine of a knife is the side that is opposite of the cutting edge, and in most cases, it's much thicker than the cutting edge of the blade. Its purpose is to strengthen the blade.
The spine of a knife is blunt and smooth, which allows the user to grip it with the forefinger and thumb. It also makes it possible to apply pressure to the blade with your palm. The heel portion of a knife consists of the two inches of the cutting edge opposite of the tip.
The heel is usually reserved for cutting into coarse items, which require additional strength or pressure. Depending on the task at hand, the heel has the potential to make more efficient, faster cuts than the rest of the blade.
The bolster is the thick piece of metal in between the blade and the handle, and its purpose is to balance the knife. The bolster is also a great place to place your fingers. All knives have a handle, and the purpose of the handle is to hold the blade.
The blade's tang reaches into the handle, and the handle secures everything and holds it together. A quick tip is to make sure the handle of a knife fits your handle correctly before purchasing the knife. You now have a basic understanding of the different components of a knife and what they're used for.
How Knife Blades Are Made
When it comes to manufacturing knife blades, there are two basic methods. All knives are either stamped or forged. There are many debates over what method produces a higher quality blade. It's useful to understand how both manufacturing processes work.
Knife blades that are made with the stamped method are cut from a flat sheet of metal. After the blade is cut from the sheet of metal, it is ground, sharpened, tempered and polished. When compared with forged blades, stamped blades are usually flatter and thinner.
Most stamped blades make the entire knife feel off balance and heavy. However, stamped blades are significantly easier to sharpen. Since most stamped blades don't feature a bolster, they're easier to recognize.
Generally, most people view forged blades as higher quality products than stamped blades. The majority of stamped blades are cheaper than forged blades, which helps to solidify the idea of forged blades being higher quality.
The Making of Forged Knives
The method used to manufacture forged blades is a bit different than stamped blades. When a forged blade is created, it's produced from a piece of steel.
During the manufacturing process, the steel is very hot and pressed into a mold. As the steel is added to the mold, it's hammered into the desired shape.
The blade is placed through several additional processes, which increase the hardness and flexibility of the blade. Later, the blade is machined into the desired shape. Most forged blades are thicker than stamped blades, so they're stronger and better balanced.
While it's true that not every forged blade has a bolster, most forged blades are recognized by their bolster. At the end of the day, research shows that forged blades are usually better and more expensive than stamped blades.
A Look at the Materials Used For Knife Blades
Have you ever looked at a beautiful knife and wondered what it was made out of? The material that is used to create a knife blade is very important.
It has a profound impact on the overall durability and usefulness of the knife. The type of material used for the blade is also important when deciding how to maintain the blade.
When picking a knife based on blade material, it's crucial to consider how susceptible the material is to corrosion, how sharp it will stay and how easy it will be to sharpen.
Once you understand the different blade materials used and their qualities, it will be much easier to make an educated decision. Let's take a look at the different materials.
Ceramic
A knife blade that is made from ceramic consists of aluminum oxide and zirconium oxide. An interesting fact is that zirconium oxide is the second hardest material known to man, second only to diamonds.
While it's an incredibly hard material, zirconium oxide is also very brittle, so it can break or chip easily. The cutting edge on a ceramic blade is significantly thinner than the cutting edge on a steel blade, so it makes it far easier to cut through items.
Ceramic blades are very brittle, so they need to be used cautiously. It's almost always better to use ceramic blades for slicing instead of chopping.
A ceramic blade is very brittle, but it will hold its cutting edge nearly 10 times longer than steel. A diamond sharpener is the only device that is suitable to sharpen dulled ceramic knives, and a professional must perform the work.
Plastic
It might seem odd that there is such a thing as a plastic blade. However, plastic blades are usually used to prevent the discoloration of vegetables. Most plastic blades require a lot of cutting force and aren't very sharp.
Titanium
Many knife blades are made from titanium. These blades are created using a mold of carbides and titanium. The added carbides make it possible to heat treat the blade, which greatly increases durability and overall strength.
When you compare it to steel, titanium is a lot more resistant to corrosion and wear, and it's also much lighter. Titanium is also easier to sharpen and holds its edge much longer than steel.
It's even more flexible than steel, which is what makes titanium blades perfect for filleting and boning. Many knives have a titanium-coated edge, which means only the edge of the blade is coated. After it has been sharpened a few times, a titanium-coated blade will lose its effectiveness.
Stainless Steel
Today, many knife blades are made from stainless steel. A blade made from this material is very resistant to rusting and discoloration. However, without proper care, it's possible for stainless steel blades to become stained.
When overexposed to vinegar, lemon juice, hard water or salt water, stainless steel blades can start to rust. It's crucial to always wash and thoroughly dry all blades made from stainless steel.
While a blade made from stainless steel can hold its cutting edge for a very long time, the material is so hard that it cannot come with a very sharp edge to begin with.
For example, a blade made from high-carbon steel comes with a much sharper initial cutting edge. Due to its hardness, stainless steel is much harder to sharpen when it becomes dull.
High-carbon Steel
For many years, knife blades have been made from carbon steel. This material can be made to be very sharp and tough. Blades made from carbon steel are easily sharpened and can hold their cutting edge for a long time.
Unfortunately, carbon steel blades are quite brittle and can break. Acidic foods can also cause carbon steel blades to discolor. Fortunately, the discoloration doesn't affect the knife's overall performance. The right care can prevent rusting and discoloration.
High-carbon Stainless Steel
This material is similar to the material mentioned above but better. High-carbon stainless steel offers all of the benefits of high carbon steel, but it contains more carbon, so it's better at holding a cutting edge and tougher.
High-carbon stainless steel also contains a lot of chromium, which makes it resistant to discoloration and rust. Today, this material is one of the most popular materials used to make knife blades, and it's routinely used to create high quality kitchen knives.
Understanding Knife Handles
While it's possible to use almost any material to make a knife handle, most knives have handles made from metal, plastic or wood. However, it's not uncommon for a knife to have a handle made from a combination of plastic and wood.
Different handles have different pros and cons. Most wood handles are made from hardwoods, such as Brazilian Ironwood or Rosewood. While wood handles provide a better grip, they require more maintenance than other materials.
Many experts believe wood handles absorb microorganisms better than other materials, so they're not nearly as sanitary as plastic or metal handles. Wood handles should never be allowed to soak in water.
Some knife handles consist of wood that has been infused with plastic, which provides the best characteristics of both materials.
Knife handles can also be made from composition or molded plastic. When compared with handles made from wood, molded plastic and composition handles are far easier to care for.
However, it's not uncommon for molded plastic handles to become brittle over time, which can cause them to break. Some knives actually have metal handles. These handles last much longer than the alternatives and add additional weight to the knife.
The only problem with metal handles is that they can become very slippery when used with damp hands. Stainless-steel handles are also much less likely to absorb debris and microorganisms.
A Look at Different Types of Knives
The kitchen of a professional chef might be home to 20 or more different knives, and every knife has a specific purpose. The good news is that you don't need to know about every single type of knife to find the knife that is best for you.
Chef Knife
When shopping, you can choose from a mini or traditional chef knife. It's not uncommon for a chef knife to be called a cook's knife. A chef knife is frequently used for slicing, mincing, dicing and chopping. You can usually buy it in 12, 10, 8 and 6-inch sizes.
The smaller sizes are usually called mini chef knives. The specific balance, weight and heft of a chef knife make it a solid choice for cutting thicker meats, fruits and vegetables. Longer chef knives are better for people who have big hands.
Paring Knife
A paring knife is usually small and features a sharp, straight blade. In most cases, the blade is three or five inches long. The narrow, thin blade tapers to a point on the tip.
A paring knife is quite easy to handle, and it's the primary choice for coring and peeling foods. However, it also works well for cutting and mincing small food items. A lot of cooks use this knife when working with fresh herbs, garlic or shallots.
Bread Knife
A bread knife is really just a serrated knife. It's a knife that has a sharp edge, and it has small notches in it, which resemble the teeth on a saw. Most bread knives are about 10 inches long.
Most serrated knives are quite difficult to sharpen, so most chefs prefer to purchase new knives instead of sharpening. A bread knife is perfect for slicing through bread. It works well for food items that are hard on the outside and soft on the inside.
Carving Knife
Most carving knives have a thin blade, which is usually about eight inches long. The blade on a carving knife isn't very flexible. It has a pointy tip that helps cut meat away from bone.
A carving knife works particularly well for slicing through hot meats, such as roast pork and beef. Most carving knives are sold with a carving fork, which serves to anchor meat.
What to Look For When Purchasing the Best Kitchen Knives
If you want to purchase the best kitchen knife, then you have several considerations to make. Before deciding on a knife to purchase, you need to consider the comfort level, required maintenance, functionality and price.
Due to the way knives are built, you should always purchase the highest quality knife that you're able to afford. A high quality knife will make your life much easier, so it's worth it to spend the extra money for a higher quality product. A lot of consumers end up purchasing a set of knives. There is nothing wrong with buying an entire set, but you're likely to be far more satisfied if you purchase your knives individually.
The problem with purchasing a set is that many knife sets include several knives that you'll never use, and there is no reason to spend money on products you'll probably never use in the kitchen.
When you purchase knives individually, you'll be able to make sure they're high quality, and you'll be able to completely avoid spending money on knives you'll never use. If you're a newer chef, you'll want to start out by buying a bread knife, utility knife, paring knife and chef knife.
Virtually all of the basic cutting tasks can be handled with this set of knives. However, if you have more money to spend, don't be afraid to add some specialty knives to your collection, but it's important to make sure you'll actually use them.
Before you ever spend money on a knife, you should see what features it has to offer, so you can determine if it's a good fit for your needs. As mentioned earlier, every knife has a specific purpose. If possible, you should check to see how a knife feels in your hand while holding it.
A knife should feel comfortable and balanced. It should also have some heaviness to it. Heavier knives make chopping and slicing much easier. When looking for a knife to purchase, it's also important to consider the type of blade and cutting edge.
Some types of blades require significantly more maintenance and care than others. For example, some blades must be sharpened far more often than others, and some blades can only be sharpened by a professional.
General Tips
The purchase of a knife is only the beginning of the relationship. There are several general tips that you can use to continue getting value of the money you've spent on your knives. First, you should always wash your knives by hand because it will make them last much longer.
The main reason why you should avoid washing your knives in the dishwasher is because it exposes them to strong detergents, which can dull the cutting edge. The other issue is the fact that a dishwasher exposes knives to intense temperatures, which can alter the structure of the knives.
The dishwasher can also cause knives to bounce against other dishware, which can dull the blades. A leading cause of blade discoloration is a lack of prompt cleaning after use. After using a knife, you should always immediately wipe the blade clean.
By quickly cleaning the blade after use, you're also protecting the blade from hardened food, which makes the knife much easier to clean. A knife should always be washed alone because you don't want to bang it against other objects and dull the blade.
The best way to clean a knife is to lay it onto a flat surface and wipe each side of the blade with soapy, hot water. It's especially important to clean a knife that has just been used to cut fish, meat or poultry.
When possible, you should store your knives in a polyethylene or wooden block. It's important to constantly keep your knives sharp because it's significantly harder to use a dull knife.
If a knife is as sharp as it should be, it should be able to slice through the skin of a tomato with very minimal effort. It's best to use a cutting board made from polyethylene or wood.
These materials create far less resistance to the cutting edge of a knife when compared to plastic, metal or ceramic. These are some simple tips; you can use them to get the most out of your kitchen knives.
Western versus Easter Style
When you're looking for kitchen knives, you'll notice there are Western and Eastern styles. It can be difficult to describe the difference between these two styles.
The Chinese cleaver is an example of Eastern cutlery. The cleaver was made for a wide range of purposes, and it has a rectangular blade and straight cutting edge. It has a slight curve, which is perfect for dicing and mincing.
The top of the blade is actually dull, so the cleaver can be used for pounding. Most professional chefs prefer Western style knives over Eastern style. In terms of performance, there really isn't a difference between the two; for most people, it's a matter of preference.
Common Knife Care Mistakes
Most people are guilty of some degree of knife abuse. It's common to take good care of your knives after the initial purchase, but it doesn't take long to sink into the habit of neglecting them. For example, maybe you start throwing the knives in the sink.
One of the most common mistakes is leaving knives in the kitchen sink. Another mistake is keeping knives in the kitchen utensil drawer. The blade will get dented and scratched, and the blade can become dull. You should also avoid the mistake of washing knives in the dishwasher.
Hand washing works best. Always make sure to thoroughly dry your knives before you put them away. Avoid the mistake of using your knives on anything other than a cutting board.
Another common mistake is leaving knives in the dish rack. You must avoid this mistake because it can leave your knives bruised and dull. As a rule of thumb, you should always give each individual knife its own space, regardless of where you put it.
By avoiding these mistakes, you'll be able to take good care of your quality kitchen knives while avoiding costly rust, dulling and discoloration.