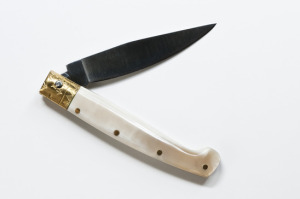 At first blush, it seems high-quality folding pocket knives must be a relatively recent invention. The craftsmanship and metallurgy involved in manufacturing such tools seems consistent with inventions of the 1700s or later.
That's the beauty of this remarkable tool: It's timeless. The folding knife has been around since the early Iron Age – more than 3,000 years ago – in a form similar to today's knives. A 2,500-year-old bone-handled pocket knife has been discovered in Austria.
Until the 1960s, the pocket knife appeared as frequently on Christmas wish lists as footballs and Red Ryder BB guns. Kids of the day even knew manufacturers; many are still around today. One familiar name was Buck, which was so popular that the term "buck knife" was sometimes used as a generic descriptor for any pocket knife.
A similar old and well-known quality brand is Case. Buck and Case still make folding knives. Today, they're joined as popular culture icons by manufacturers such as Victorinox (who, along with Wenger, is one of two makers of Swiss Army knives) and Leatherman, which makes knives but is better known for its Swiss Army knife-variant multi-tools.
Many adolescents still covet a cool pocket knife, or a Swiss Army knife with a dozen or more blades to dazzle friends. But most American school systems forbid the carrying of knives. Political and ethical arguments abound regarding the effectiveness and propriety of such rules. Also, punishments associated with breaking the rules, such as long suspensions and expulsion, arouse controversy.
As a result, today's folding knives are no longer the often-requested holiday presents for youngsters they were when Howdy Doody was the king of children's television. But folding knives still make great gifts for adults and older children who have demonstrated enough maturity to respect knives. And they make great rewards to oneself for "jobs well-done."
A finely crafted knife can become a family heirloom, and the potential future value of high-end knives helps ensure a knife will receive proper care. As for "blue collar knives," a rugged, well-crafted pocket knife is much-appreciated for anyone's tool box or belt.
If you're looking for a high-quality folding knife, you may wonder if there are any
considerations involved in the purchase that aren't related to the quality of the knife. These might include your budget and the possibility that a gift recipient will not take care of a knife.
Other Important Items to Consider
What will the knife be used for? If you're not buying an heirloom — that is, if you or the gift recipient expect to use the knife and not simply display it — you must consider what tasks you'll be performing with the knife.
Is the knife for you, or are you buying it as a gift? Obviously, a folding knife isn't an appropriate gift for everyone. Ask yourself, "Does the recipient take part in or perform activities in which a knife would be useful?"
Are you looking for an heirloom knife or a "work knife?" Either way, you want to choose good quality and craftsmanship so the knife will be durable and easy to use.
How much can you spend? If your limit is $20, you'll be looking at a different selection of knives than if your budget is unlimited.
How many blades do you need? One, two or three? Or are you a Swiss Army knife fan who's not content with fewer than 30 blades?
What's the best folding knife you can buy?
Traits of good knives; things to consider
So what's the best folding knife? There's a different answer for everyone, but the best knife is the one that fits your needs best. It fits your budget; it fits your hand; and its maintenance requirements fit the time you have available for those tasks.
Look for a good stainless-steel blade with a range of 2.75 to 4.0 inches long. Longer blades can be hard to handle, and shorter ones may be limited in usefulness.
Choose between a blade that is fully serrated, partially serrated, or straight. The best use of a serrated blade is for slicing things like warm bread. If you're regularly cutting something of a similar consistency, look for serration. Otherwise, choose a straight blade or a partially serrated blade.
Give the handle a good test for weight and grip. It should feel good in your hand and not too heavy or light. If you're buying it for a gift, estimate as closely as you can.
The Blade
Most blade experts share this belief about the best blades: If you want great quality, buy American- or German-made, or a Japanese brand from Seki City, Japan, such as Mcusta and Rockstead. Many experts warn knife buyers to avoid Chinese and Pakistani imports.
Buy a brand name. Such manufacturers tend to stand behind their products, because they've spent resources building their reputation.
Look for a good quality of stainless steel, but don't make that your primary criterion for buying one brand over another.
According to Best Pocket Knife Today.com, two premium grades of stainless are commonly used in knives. The two are S30V and BG-42 stainless. Best Pocket Knife Today.com identifies 13 additional varieties of stainless that are appropriately used for pocket knives. But it warns shoppers to remember that many desirable characteristics of knife blades are the result not of a secret "recipe" for creating the metal, but as the result of the heat-treatment process used to create the blade.
Carbon-steel blades are sometimes used appropriately in lower-priced knives. Titanium blades are being promoted in some high-end knives, but so far, they haven't won over a large number of supporters. Titanium offers a huge number of advantages in metallurgy; for example, it doesn't. But questions remain about its brittleness – the ability to flex slightly without snapping.
Handles
Good quality handles can be made of a variety of materials. They should be resilient, and they should not absorb moisture. Fiberglass laminates fit the bill nicely. Oddly, too, this is an area where titanium can be the right choice. Aluminum, bone and rubber are also good, popular choices.
Feel – the ergonomics of the knife
A knife should feel good in your hand. It must be balanced, and ideally, it should feel like an extension of your hand.
So determining the right knife for you or to give as a gift is a subjective choice – but you can always find help.
Name brands – those who stand behind their products
The final word from experts is usually, "Look for a name brand." Various magazines and rating services occasionally rank their favorite folding knives based primarily on objective criteria. Here are some of our current favorites:
The revered Victorinox Swiss Classic is frequently mentioned on similar lists. Some other manufacturers who are known for their commitment to quality, besides those mentioned above, include Boker, Case, Cold Steel, CRKT, Gerber and Schrade.