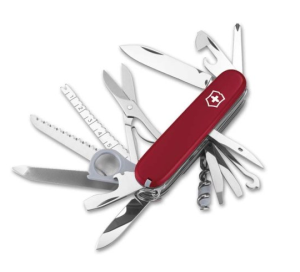 The Swiss Army Knife is a useful tool to have – some people carry one simply for the look, but a well-made Swiss Army Knife is useful in several situations. There are hundreds of models, arrays of tools, different colors, and huge price ranges, so it can be difficult to know which combination of knife features is the best to purchase. A little knowledge of the history of this unique tool goes a long way in informing your decision when you're deciding what model of Swiss Army Knife to purchase.
For starters, it's good to know that there are only two truly authentic Swiss Army Knives – Victorinox and Wenger. Victorinox was started by a knife maker named Karl Elsener. (The name is a combination of his mother's name, Victoria, and inox, another name for stainless steel.) In 1891, Elsener helped to fill a massive army knife order placed by the Swiss government. Several other knife makers helped fill the order, but Elsener's brand outlived the others. The Swiss government gave business to Elsener's Victorinox and also to another knife manufacturer, Wenger. Because of this dual-brand government endorsement, Victorinox and Wenger are the only two official Swiss Army Knives.
If you want to buy the best Swiss Army Knife on the market, you want to at least get an authentic Swiss Army Knife, and you'll get that with Victorinox or Wenger. (Side note: Victorinox now actually owns Wenger, but the lines maintain separate production facilities.)
The very first Swiss Army Knife had only four components. Now there are a plethora of options for those looking for a Swiss Army Knife – models vary in their designs and even in their included components. For instance, the "original" Swiss Army Knife – Victorinox's Classic SD, has a small blade, scissors, nail file with screwdriver tip, a toothpick, a tweezers, and a keyring. According to Victorinox, this is the best selling of all Swiss Army Knives.
However, different people look for different things, and there are some surprisingly innovative twists on a classic design. A remarkable, high-tech departure is the Slim Jetsetter, a Swiss Army Knife that comes with a detachable flash drive. This model comes in sizes from 8GB to 32GB. Though a flash drive may seem out of place among the usual army knife components, this combination approach can help simplify the carrying of multiple tools that are used often – it's especially useful for travelers.
You can purchase Swiss Army Knives geared towards specific activities as well. For instance, the Hiker model has 13 tools: a can opener with small screwdriver, a reamer, a wood saw, tweezers, a toothpick, keyring, a large screwdriver, bottle opener, a Phillips screwdriver, wire stripper, large blade, and small blade. Models like this are clearly useful while out on trails or camping, and they have plenty of household uses as well, making them indispensable all-purpose tools. Victorinox also makes the Mountaineer and Explorer Plus, two models with similar arrays of tools that find uses outside and indoors.
While Swiss Army Knives are made for utility, there's no need to sacrifice design. Victorinox knives come in a variety of colors and materials. The classic original knives are red with the cross logo in white, but there are many other variations. There's an entire collection of camouflage knives, and Victorinox even started a crowdsourcing campaign for designs that resulted in several new models, including one printed with small birds and a map of the world print.
If you're looking for collector items or just want a unique knife that not many people own, Victorinox has an impressive listing of limited-edition knives. One such knife is the Damascus Limited Edition, which Victorinox calls "the most prestigious knife of the year." This knife has a Swiss walnut handle and features, along with several other included tools, a blade of Damascus steel – a very strong steel blended in a process used for thousands of years. This model is serialized and comes in a gift box, making it good for collecting or for gift giving. Another limited edition is the Midnight MiniChamp, a very small knife with several tools including a flashlight. Victorinox makes a classic MiniChamp, but the limited edition comes in a unique print – one side is white, and the other is camouflage.
Wenger Swiss Army Knives also come in a variety of models. One innovation featured in many Wenger models is the EvoGrip, a rubberized, ergonomic grip that makes knife handling easier even in wet conditions. EvoWood grips are also available on some models – these are ergonomic wooden knife handles. EvoWood is sustainable – these grips are made out of what would otherwise be waste material, though it's impossible to tell from the sleek finishes on the EvoWood models.
Like Victorinox, Wenger makes Swiss Army Knives for just about every budget. You can purchase a knife for about twenty dollars or for a few hundred. Wenger's Elite series features knives made of luxury materials – one is even sterling silver. A couple of models feature cigar cutters with scissors as well.
Most of Wenger's knives are in the Evolution shape, which is designed to better fit the human hand and to increase safety when using knives in a variety of conditions. EvoGrip adds rubberization to the Evolution shape, and EvoWood is the Evolution shape carved from wood.
If you want to find the best Swiss Army Knife on the market today, there's no easy answer as to which model you should buy. Every person will have different ideas of what makes the best knife: What tools do you need? What colors do you like? What grip best suits your hand? What's your budget? There's no single best knife.
It takes some shopping around, reading reviews, and maybe even handling some individual knives, but putting in the time to research and learn about different knife models, materials, and components means you'll be an informed consumer on your way to purchasing your own best Swiss Army Knife on the market.