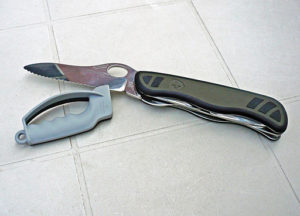 With hundreds of styles, shapes, materials, and features to choose from, selecting a knife sharpener to suit your needs can be a daunting task for even a seasoned professional. By considering the time and monetary cost as well as ease of use for a few of the most effective sharpeners out there, the best sharpener for you should be clear.
A general rule is that higher quality materials save time and improve the quality of an edge, but decent sharpeners can be found for less than the typical $80-$200 range of high quality sharpening sets. Handheld multifunction automatic sharpeners typically cost $8-$25 and offer decent quality materials in a simple format. However, there is a price for falling at the very end of the price scale. The materials often lose effectiveness within a few months or years and do not allow for angle adjustments, which can cause nicks and increased wear on a blade. A Lansky BladeMedic may not offer perfect edges, but at $10.79 and only a few ounces, it's compact and cheap. It also features a diamond tip file for tight spaces and refined edges, making it more useful for serrated or smaller blades. The even smaller Smith's Pocket Pal Multifunction Sharpener weighs even less at under an ounce and costs only $8.06, but has smaller slots with less material, making them prone to quicker wear. The edges produced by these sharpeners would frustrate a top chef but for a quick and dirty sharpening in the field, there's no better sharpener to tuck in your pocket. Similar small pocket automatic sharpeners should offer similar features, but the biggest bonus to watch for is the diamond steel file for a variety of tasks.
If you're willing to invest a bit more in a small sharpener, a stick-style sharpener offers fine edges in exchange for time and monetary costs. They do tend to last much longer and increase a blade's lifespan, though, so can pay for themselves in a couple years if used extensively enough. A good example is the Spyderco Sharpmaker Sharpener, which is compact, highly effective, intuitive to use, and my personal favorite. At $79.99, it's not cheap, but it features four different stones and hundreds of different uses, including slots designed specifically to sharpen implements with points (like fish hooks) almost instantly. Though it requires a bit more finesse and time than an automatic sharpener, it offers the ability for even beginners to achieve a razor sharp edge with a little practice. This can mostly be attributed to the custom angle settings that allow for more natural feeling movements when sharpening, but is in part due to the high end materials and format of the product. The design and quality of this sharpener mean it is built to last, making it one of the cheapest in the long run. A less expensive version by Smith, their 3-in-1 Field Sharpener, offers a similar design for $19.99 but does not include high grade materials or easy angle adjustments. The included diamond stone can produce high quality edges but will require far more time and practice and cannot rapidly sharpen dull blades. It may not be effective for all blade types.
For a finer edge, a multi grit stone kit is a great option for beginners. Most offer 3-7 different grits and some kind of guide to maintain angles when sharpening, such as Gatco's 5 Stone Sharpening System It offers a metal angle guide and easy reminder instructions, as well as a included honing oil to increase the lifespan of the stones. It will take more time to get to a fine edge and isn't an efficient option for field sharpening, but the bulk of the kit is more than made up for by the ease of use.
A similar style manual sharpener stone can be purchased without an angle guide individually with one grit per side. The Shun 300/1000 Combination Whetstone comes highly recommended and is more suited to experts. It comes in at the top of most price ranges at $79.95, but is large, lasting, and offers 300 and 1000 grit ceramic stones, making it ideal for almost any sharpening job. More ideal for home or kitchen use, this stone can handle a variety of blade types and strengths without causing nicks or unusual weathering. It does require pre-treating to ensure effectiveness, but this consists of just using it to care for less delicate blades first to see what pressure to use. It may, however, be too strong for Japanese style blades. This particular stone comes with detailed instructions. Other grits and sizes can be found by searching by grit type. Though natural stones, such as Japanese water stones or Arkansas sharpening stones are favored by many knife aficionados, I've noticed no particular difference in quality compared to synthetic stones, and find synthetics easier to use and maintain.
It takes little to no practice to use an automatic sharpener correctly, making it a safe choice for beginners who still need an edge finer than cheap handheld models can offer. Less portable automatic sharpeners are great for amateur sharpeners, but inexpensive models offer few if any angle adjustment abilities and often use mid-grade quality materials. The Wusthof Precision Edge 4 Stage Knife Sharpener is less expensive at $29.95 and sharpens most blade types, including fine Japanese cooking knives. It is weighted and rubberized at the base to increase safety and ease of use and can be used to full efficacy with a little finesse. Some of the slots work more effectively when used at a very slight angle. For more expensive models, it's usually better to upgrade to an electric version. This is a major drawback for field usage, however, as almost all models require external power and they tend to be somewhat loud. While you may have wiring in a lodge while on an expedition, you may not have the ability to produce a significant amount of noise without scaring off game.
A low cost electric sharpener can be as inexpensive as $20 or so, but for them to be even remotely quiet or to last more than a few uses without losing angle consistency or losing power, it's necessary to spend closer to $50 or above. The National Presto Eversharp Electric Knife Sharpener comes in at $42.54 and while it may not be beautiful or the fastest to use, it gets its job done and does it well. It can be custom set to suit most blade thicknesses and offers basic angle selections. It won't give a perfect angle cut, but will get close. For a razor edge, however, a hundred dollars or so will get you a blade sharp enough to safely shave with. For a sharpener that expensive, it's important to look for diamond abrasives in every abrasive slot and angle selection, generally between 20 and 15 degrees. At $169.95, the Chefs Choice Model 1520 Angle Select Sharpener is certainly not for casual users, but gets a razor edge faster than any other method and while accommodating a variety of sizes of blades. Though still loud, it is not nearly as annoying as less costly sharpeners.
Finally, a steel, a rod used for straightening and basic sharpening, is a must have for any knife user as a quick measure to reduce how frequently sharpening has to be done. Though they can be purchased for as low as $15, it's worth it to at least invest $30 or potentially more in a steel. The price reflects the material quality and the care taken to produce a fine surface for straightening. The Wusthof Industrial Diamond-Steel Knife Sharpener is average sized at 9 inches and costs $32.95, which is not a bad price for a diamond-steel sharpener. The industry champion has to be the Global G-38 Diamond Sharpening Steel, which was specially designed to sharpen ultra hard steel and is more ergonomically shaped as a 3/4 inch oval to decrease the time taken to hone and straighten any steel. At at least $160.85, however, it isn't really suited for anyone other than the most dedicated sharpener.
For a more advanced product, the strop, it's hard to go wrong with a classic Barber's strop, available almost anywhere. It's important to watch for the availability of both a suede and smooth leather side and an optional eyelet to secure it during use. A good strop should be at least 20 inches long and made of real leather. Some strops may develop mounds if shipped folded, but this is generally not an issue unless they're extremely short. Stropping pastes don't vary greatly, but Dovo Strop Paste, particularly their red and black combination pack, is easy to use with minimal smell and high effectiveness.
Selecting any sharpener can be beyond confusing, but by keeping in mind your needs and budget, it doesn't need to be difficult. Know your time and needs, and you can find the sharpener to please. Make sure you also read our guide on how to sharpen a knife so that you know how to safely sharpen your dangerous instruments.