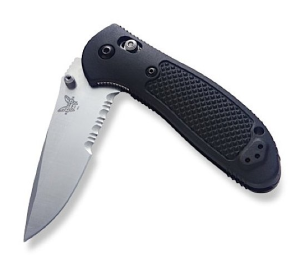 A standard and sturdy knife, the Griptilian comes in two size ranges. The standard size models are 551, 553 Tanto, and 550HG Sheepsfoot and all have 3.45 inch blades and 4.62 inch handles, making it slightly on the larger side as a pocket knife. While at a little over 8 inches it may take some getting used to, the larger handle facilitates a much firmer grip. Due to its size, it's better suited for use on heavy duty tasks and not as an every day carry. The mini models are the 556, 557 tanto, and 555HG, and make much better every day carries due to their more standard if a little compact size. At 2.91 inches for the blade and 3.87 inches for the handle, it is just under most folding pocketknife model size ranges.
The handle feels much like plastic and does come with grooving remnants from manufacturing processes, but is actually a nylon blend reinforced with glass called Noryl GTX. Though it is less weighty than a standard knife handle, it's much stronger than wood or denser synthetic blends. Because of its composition it actually comes in a broad array of colors, including black, olive drab, and sand as well as brighter colors for less subtle use (including soft blues and pinks for female users). The actual texturing of the handle aids the already solid-feeling Noryl GTX in becoming a near perfect handle for heavy duty tasks. It would take a great deal of effort to make one's hand slide while doing even heavy duty tasks, so it's something you can hold steady in almost any circumstance.
The range of blade shapes is a major bonus for this model, as well as the variety of steel choices. The standard 154CM steel in standard models is hard and durable enough to hold an edge and avoiding chipping for quite some time, but for more heavy duty use the S30V steel upgrade would be a definite bonus. With a wide enough blade to take serious abuse with little impact, the shaping of it depends more on your actual needs than durability of the shape. Fully smooth or partially serrated edges are available on all models. With its hearty construction, the chances of the scalloping breaking are relatively low, so unless you exclusively need a smooth blade, the serrations are a major bonus. The 551 and 556 both feature standard drop blades that can handle most tasks and is ideal for every day carrying. The 553 Tanto and 557 Tanto both have- you guessed it- Tanto style blades. While these are less useful for most everyday tasks due to their unique shaping, the angled point makes penetrative action less hard on the blade. While it isn't necessarily better at penetrative tasks, it will hold up better with severe force than a standard shaped blade. Unless you anticipate frequent high impact direct blows with your pocket knife, this blade shape is really more for a 'first knife' situation. The last models, the 550HG and 555HG both feature a hollow ground sheepsfoot blade with a thumbhole, bringing a larger array of use than even the standard drop point shape. Due to the relative flatness of the edge this shape can take some getting used to, however, and may not be an immediate favorite. All models come bitingly sharp out of the box and hold their edges beautifully, but Benchmade does offer lifetime sharpening service for those who don't feel comfortable sharpening their own blades. With the strength of the steels offered on this blade and with a little regular honing, sharpening should only be necessary yearly at most.
The most important feature for any model of Benchmade Griptilian is actually the Axis locking mechanism. It is fully ambidextrous and utilizes a hardened steel bar to hold the blade firmly in position until it is released, giving a user a lot more certainty and trust that it will stay at the exact expected angle. It does make a soft 'click' noise when put in place, which may not be as ideal for hunters, but is actually pretty reassuring for other uses. The actual opening action is fast and safe and can be done with a pull on the thumb studs or even a quick flick of the wrist if the lock is disengaged.
Overall, this knife is sharp, stays sharp, is easy to grip, and is safe and steady to use.