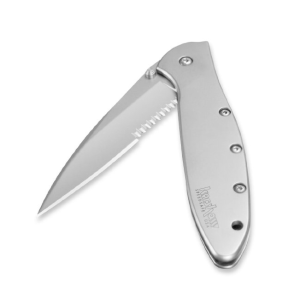 As a classic everyday carry, the Kershaw Leek folding knife is timeless and smooth. Best suited for everyday tasks due to the smoothness of the grip scale, it comes with a spring loaded blade deploy mechanism for fast-paced users and a stable blade lock to prevent accidental opening- great for keeping pockets and legs safe.
The knife as a whole suits the golden ratio of pocket knives perfectly with its 3:4:7 measurements- a three inch blade with a four inch handle for a compact but still useful seven inches of total knife. Regardless of the handle make, it is one of the slimmest pocket knives out there and 'disappears' from notice as a free pocket carry or while using the included clip. At its mid to low range price, one would expect this knife to not know how to take a beating, but its solid construction makes even the plastic handled versions feel sturdy and lasting and take some pretty rough impacts. The clip itself is optional but not as minimalist as the overall knife but is dependable if a little obvious and can be carried tip up or tip down.
Almost every version intended for daily use or tasks requiring muscle would benefit from the addition of grip tape, as the smooth scale may look beautifully minimalistic but will slide in your grip with any decent amount of pressure. The thumb grip aids somewhat in maintaining a firm hold, but does not do as much as a textured grip would. It is somewhat of a benefit to carrying, however, as it slides in and out of pockets and carrying equipment with minimal fuss due to the edge free folding design paired with the lack of texture on the grip.
The blade itself is rounded rather elegantly into what could almost be considered a classic sheepfoot shape and comes pre-sharpened to a razor's edge. The sheepfoot shape allows for far more uses than a classic pocket knife without much hassle. With the severe narrowing at the point of the blade, it re-sharpens with ease and can be quickly brought back to prime condition. The steel's composition itself is the unusual and rather inexpensive 14C28N, but does not fail to impress. While it may be less costly than traditional steel blends, the 14C28N is significantly less likely to chip. Versions can be bought with S30V steel and for heavy use are worth the bump up in price, as S30V offers a more lasting edge and can make the knife capable of taking more than its fair share of abuse. The actual blade itself is in most version is much thinner than any other pocket knife I've seen, however, and may not hold up to the abuse that the Leek Random, another version released specifically to address this complaint, could. The trade off, of course, is that without the severe tapering in the thickness, the Random cannot as easily reach a razor sharpness and does not come as sharp as other versions. The serrations available on specific models are handy for cutting cords and fabric but are delicate due to the width of the blade, so if there's no use for them, don't get one with serrations. Used with the steel handled version, it's sturdy, compact, and can fly into action for field use, but on this blade you have to choose between slicing power and ability to take abuse.
The deployment mechanism itself is a SpeedSafe classic, so it's compact but opens with a gentle press of the flipper. The torsion bar assists in opening the knife in a smooth action. While not particularly speedy compared to other deployment types, it avoids the tendency to break seen in more automatic styles of blades and is one-handed for rapid use. The lock is in-frame style but avoids the over complication that is starting to become a bigger trend in US blades. The simple design leaves ample room for easy disengagement without mistaken disengagement being likely.
Overall, this knife is a good starter knife or light use blade. Due to the comfort of the grip, sturdiness overall, and American make of not only the knife itself but almost all materials included, it's a definitively American classic.