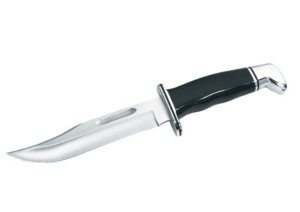 Sporting a fixed blade with six-inch stainless steel clip, phenolic handle, polished aluminum butt, finger guard and more, the Buck 119 Spec Hunting Knife remains an ideal choice for detail work such as piercing and cutting in tight spots, amongst a plethora of other applications. The Buck Special hunting knife itself boasts a rich history dating back some 47 years, solidifying its place amidst the brand's top-selling products – and for good reason: It exemplifies the original Buck promise to make a strong, utilitarian, durable and attractive knife that will superbly undertake its designed purpose.
Still made by hand in the United States of America and continuing to include such notable touches as a thick and sturdy leather sheath of saddle grade, the 119 is an exquisite piece of cutlery that is not only handsome but well-balanced; a true classic that feels remarkably good in the hand. The knife's phenolic handle and polished aluminum butt contribute to this comfort, providing added control when using the 119 outdoors. Important to note is that the Special – originally built by hand by Hoyt and Al Buck in their two-man shop – carries the company's "4-Ever" unconditional lifetime warranty.
Able to handle anything from skinning a buck to camping chores, the 119 remains perfect for woodsmen, hunters, fishermen and adventurers due to its unique weight and balance, boasting a razor-sharp blade that cuts through almost anything. This is all made possible through Buck's 100 years of experience and the utilization of state-of-the-art technology in nearly all products the company makes. Simply put, the 119 Special is an iconic classic combining great aesthetics, durable materials and construction and versatile cutting ability in a refreshingly affordable package, making it no wonder it's in more camp kits than perhaps any other fixed blade knife.
The handle of the 119 has been said to "fit the hand like a glove" by many owners, the blade light and nimble which makes it feel more natural when carving. It also rides via a low profile on a belt and doesn't weigh much, so most users don't notice it until the knife is needed – a situation that's coveted by many an outdoorsman. Indeed, the Buck Special 119 is everything one could ask for in a more-than-basic hunting knife, showcasing the excellent craftsmanship of the Buck company while providing the power and versatility that's required in a solid hunting tool.
While just as brawny and reliable as its modern counterparts, the Special also features a clip-style tip for easy skinning and butchering, making it the perfect companion for dressing mid-to-large-size wild game in the field. Meanwhile, the full tang construction boasts strength and the composite handle offers a formidable option for the serious, no-nonsense hunter.
Preparing to backpack deep through the California Emigrant Wilderness and need a reliable hunting knife? The Buck will never disappoint. Need a knife that's indestructible…one that can be left outside even in the snow and still survives? The Buck 119 answers the call of the wild with rugged, reliable characteristics. Require a good, solid knife for the field, camp or even survival? A few licks on the steel and the 119 will be shaving sharp. Here is an American-made knife ready to go out of the box, about as close to perfect as one could get and which takes and holds an edge long enough to process two deer.
Yet as accolade-lathered as the Buck 119 is, it still stays a timeless classic that has been around since the days of the legendary 110 and 300 series. Buck has become well-regarded for being able to pry a good heat treat out of the highly rust-resistant 420HC and this particular knife is no exception; in fact, Paul Bos, widely recognized as America's foremost heat treat authority for knife blades, helped Buck set up its own heat treat department complete with the ovens and all the necessary equipment.
Three generations of Bucks have overseen operations of this highly regarded company, but it is perhaps CJ Buck's sentiments about what constitutes the "Buck experience" that sums up what this organization is all about best of all: "We have been helping people thrive with reliable and trustworthy edged products for over a century. Since our own name is on the knife our quality, focus and attention-to-detail is very personal. By listening to the needs of our customers, we ensure that every product is crafted to fit their unique needs. Whether it is hunting, fishing, hiking, camping or just everyday chores, there's a Buck product that can be a reliable tool for any task.
"Further, we are always creating better designs, finding better materials and defining the best way to develop our products so customers can rely on them over the years, like a trusted friend. This has always been the Buck way."