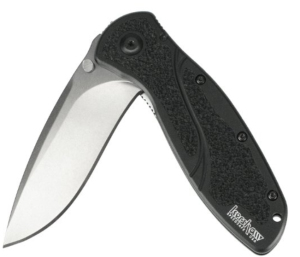 There are countless reasons to carry a pocket knife in the modern world, and limitless situations in which they may come in handy. Cutting fruit on your lunch break at work, carving a heart and initials into a picnic table while you sit next to your girlfriend, opening the quite difficult packaging that so many products are sold in today. Not to mention the traditional uses, cutting twine while fishing, cut cords and rope, open boxes, clean up loose threads on clothes, and to get yourself out of a myriad of emergency situations. There really is no limit to the amount of uses that a pocket knife can have.
To truly judge a pocket knife, there are a number of things we'll need to look at. The blade, the handle, and safety feature. The Kershaw Blur out performs any reasonable expectations in any and all of the categories, a sharp durable blade, easy-grip handles, and many safety features. It's a tough part of my job to evaluate the best pocket knives on the market, but I can honestly say that the Blur is my favorite that I've seen (so far).
But, if the pocket knife is going to help you through all of this situations, you need one that you can trust. Some cheaper, lower quality knives will have springs that begin to break, blades that dull to quickly to be useful for very long, and degrade until eventually they are no longer avoidable.
For a trustworthy knife that will last you for years and always sit in your pocket ready for whatever job you need done, you need look no further than the Kershaw Blur pocket knife.
The Kershaw Blur boasts what's called speed safe technology and dual thumb studs. The dual thumb studs keep your fingers safe while also allowing for a quick and easy one hand open. This makes it incredibly easy to quickly flick the knife open, cut the twine on your fishing pole. And just as easy and safe to close it and begin your relaxing day of fishing.
Since we are talking about a knife, let's look at the most functional part: the blade. The blade is made of 3 and 3/8 inches of stonewashed S30V stainless steel. This material not only looks beautiful out of the box, but the finish will look sleek even after a lot of use. Knives aren't just about looking good, though, and the stainless steel will stay as sharp as you'd need it for any kind of use. And it will stay that way for a very long time. Stainless steel is also very good at dealing with the weathering that pocket knives go through. Perhaps, often exposed to rain, dirt, and the elements through camping, fishing, and everyday use. Stainless steel is very resistant to rusting and corrosion from use and weathering.
In addition to the very good material that is used in making the blade for the Kershaw Blur, you'll also notice the sharp and well made blade is also very well shaped. The blade is made with a very good recurve to it. This makes it a very good multi-purpose knife, capable of both piercing and slicing. It is truly able to help you no matter what situation you might find yourself in.
The handle is always something to look closely at when buying a knife. You won't find any better than the handle on the Kershaw Blur pocket knife. Kershaw uses what's called trac tec grips on each and every Blur they make. Trac tec is a rough material built into the handle that offers superior grip over most other brands of knives. It doesn't matter if the knife falls from your hand into a puddle, or if your fingers are wet from sweat on a hot summer day, you'll always be safe and in control of you knife with the slip-proof handles. It helps to keep you safe.
The four and a half inch handle also sports a very useful clip and hole on the edge to place through a lanyard or key chain. If you feel uncomfortable keeping a knife in your pocket with you, there are other ways to carry it around as well.
Between the quality of the steel, the shape and size of the knife and the comfort of the handle, the Kershaw Blur is a top choice of knife for both heavy and light everyday use. It can be trusted through anything that you can put it through. And with the trac tec and the superior design of the handle, the quality and sharpness, and how well the sharpness is retained through heavy use, the speed safe open and the dual thumb studs, you won't be safe using any other knife. Kershaw built this knife with not only durability and usability in mind, but also safety. The amount of safety features that went into the creation of the Kershaw Blur pocket knife rivals those of any other pocket knife, especially those of a comparable price.
Without a doubt, the Kershaw Blur is a pocket knife worth buying. Whether you need a replacement for an older and less durable brand, a coming of age gift for your son or daughter, or just a present for yourself, pick the Kershaw Blur.